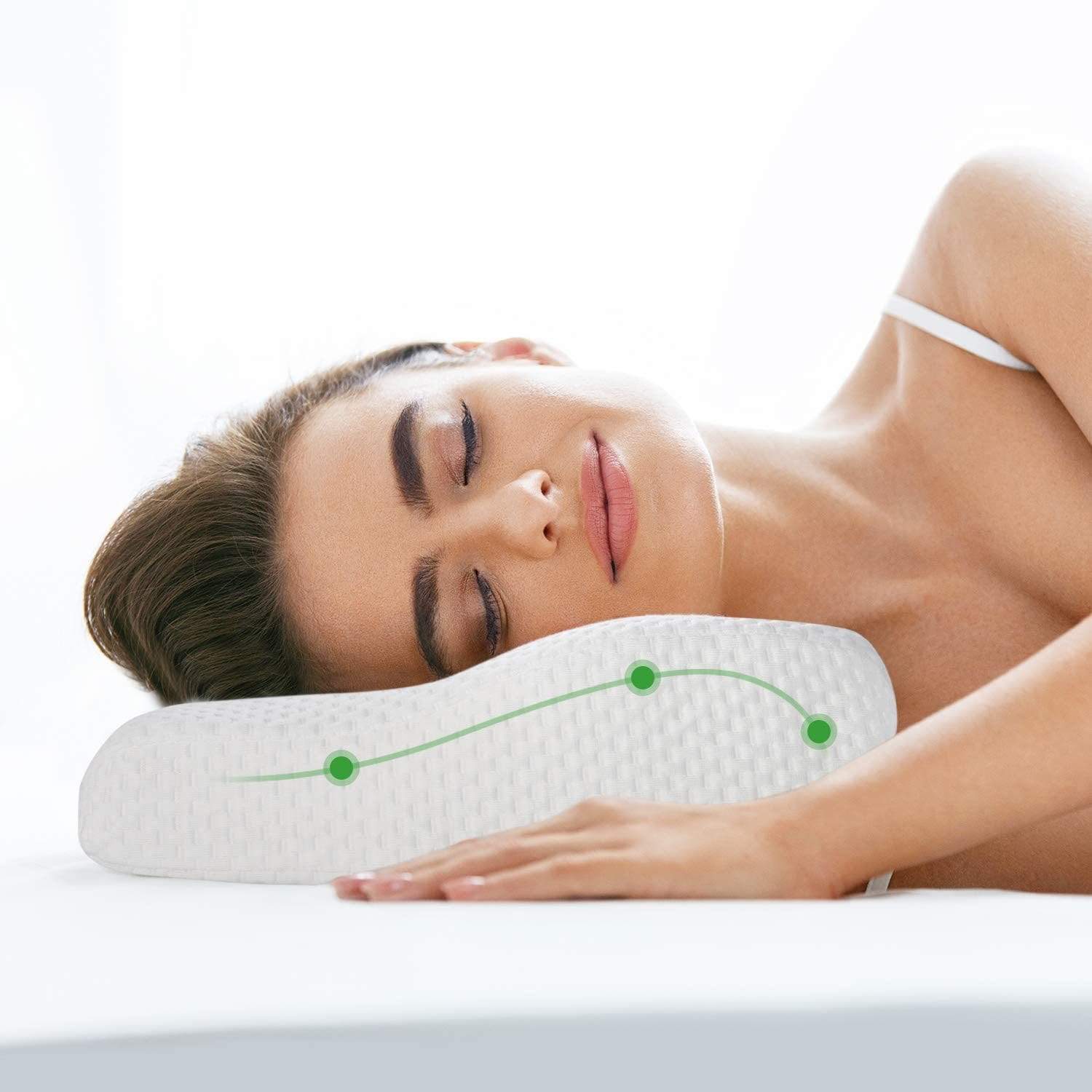 If someone asked you "What kind of pillow do you use?" you would probably shrug and reply "Just this old pillow I've had for years". Uh-oh. Since mattresses get all the attention as the biggest investment people make for their sleep, there's not much interest left for the good ol' pillow.
We're here to change that! 
A good pillow is just as important for a good night's sleep. If you constantly find yourself folding your pillow up to get comfortable, or just wake up with a stiff neck on most days, it's time for a change. Here's how to choose the perfect pillow to finally get some much-needed R&R.
Why your pillow matters
You might be wondering what all the fuss is about and why you need to put so much thought into buying a pillow. The answer is simple. Its main purpose is to support a healthy sleep posture. This means that an old or low-quality pillow is likely to put your spine and body out of alignment, causing the familiar stiffness or pain in your neck, shoulders and back.
All that twisting and crunching also leads to sleeplessness. This is why it's so important to invest in a good pillow and also ​replace it once every 2-3 years. And no, that's not too often, considering you use your pillow for about 2500 hours per year!
What should you look for in a pillow?
1. Fill
Synthetic: ​Less expensive than hypo-allergenic ones and needs frequent replacing. Affordable, but low in quality.

Wool: ​Naturally hypo-allergenic and helps regulate body temperature during winter and summer. These pillows are pretty firm, so they're not suited for everyone.

Cotton: ​Similar to wool pillows, these are also hypo-allergenic, but tend to be flat and firm.

Latex: ​More on the softer side, these pillows are comfortable, but hold their shape -so they can't be "squished" into the position you like.

Memory Foam: ​The most popular choice for people with back and neck pain, these pillows adapt to your individual shape and distribute weight evenly across their surface.
2. Shape
We recommend choosing a pillow that supports your upper back correctly and cradles your neck. The ideal pillow enables you to sleep with your head, neck, and shoulders aligned with your spine, but also feels comfortable enough for you to drift off easily.
3. Fabric
Ideally, you would choose a pillow made from high-quality natural materials, as these are also skin-friendly and have anti-microbial properties.
Not only do they prevent those nasty pillowcase acne breakouts, but they're also quite durable.
4. Sleeping position
Nearly all of us switch sleeping positions throughout the night. This makes finding the perfect pillow even harder because each position requires a different type of pillow. For example, back sleepers might prefer a soft, flat pillow, where as side sleepers might need a firm, thick pillow for support. If that seems like a lot to take in, relax!
We're proud to say that our ​LuxSleep™Smart Pillow​ ticks all the right boxes thanks to its patented design! LuxSleep™ Smart Pillow​ - sweet dreams are made of THIS.
The​ LuxSleep™ Smart Pillow​ is not your ordinary pillow. Our dedicated research & development team managed to optimize the curvature to perfectly support and promote healthy spinal alignment. Then there's the smart memory foam, which adapts to the shape of your shoulders, neck and head to provide comfort and support whilst you sleep.
Here's what we LOVE about the LuxSleep Smart Pillow:
It offers awesome spinal support thanks to the ​Wedge Extension,Cervical Contour​ and ​Center Cavity.

It's made from the highest quality materials which are skin-friendly and have anti-microbial properties.

It was designed to support all sleeping positions.
"Sign me up!" you say? Just ​order our super-smart pillow today​ and we'll send it your way ASAP. At the end of the day, choosing the right pillow can really take your sleep game to the next level. And just think about this: how lucky are we that there are teams of scientists out there working endless hours so that we can get proper shut-eye?
What a time to be alive!
How to Choose the Perfect Pillow for a Good Night's Sleep
A high-quality pillow is essential for a good night's sleep. Here's our complete guide to choosing the PERFECT pillow and finally sleep like a baby.