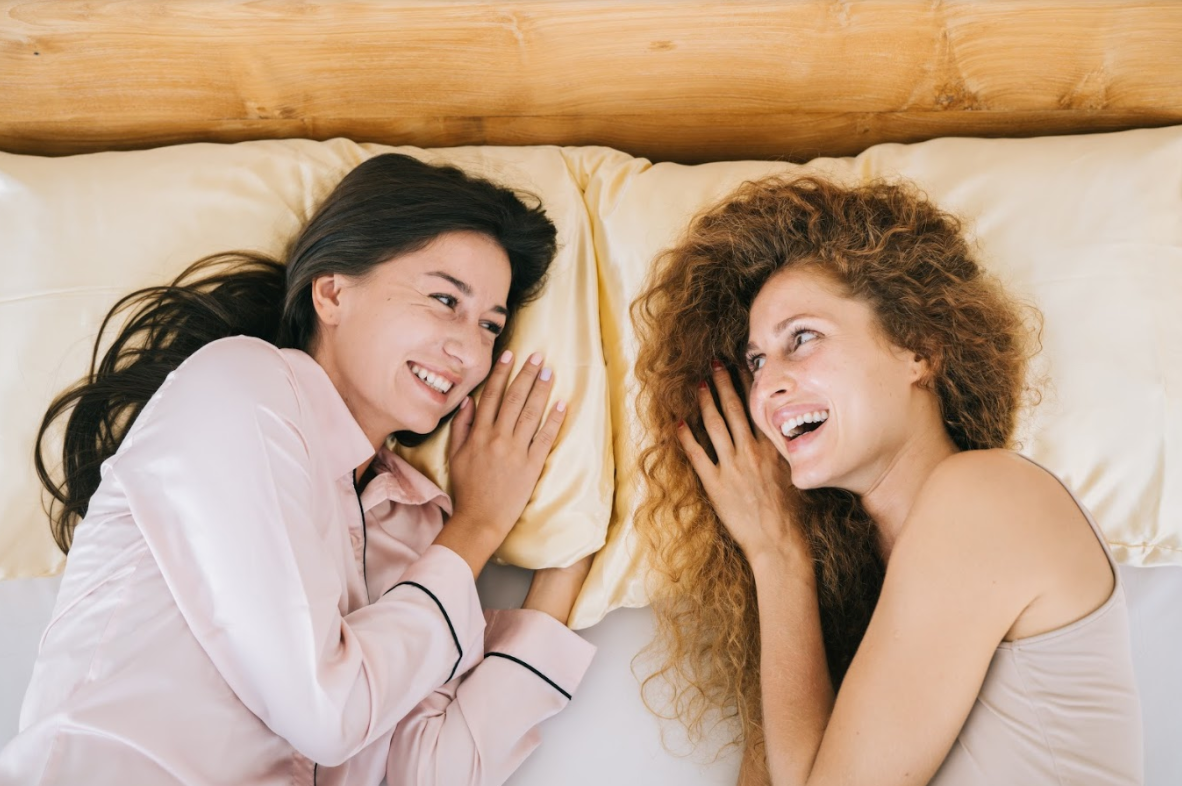 How did you sleep last night? How about your hair and your skin? Say goodbye to your old cotton or polyester pillowcases!
Our Lush Silk Pillowcase is made of pure silk making it the perfect weapon against anti-ageing, annoying and irritating sleep creases, tangled hair, and awful allergens. Invest in the best rest for you, your hair, AND your skin.
Tired of getting a full night's sleep but looking like you partied hard instead?
Avoid going into work with harsh marks on your face by sleeping on silk! Silk ­fibers are signi­ficantly less absorbent than many other ­fibers such as linen, cotton, or polyester. Choosing to sleep with pure silk in place of ordinary pillowcases can help lock in your skin's moisture.
Did you know those face and hair products you wear to bed are often drawn out by your other pillowcases? It may not be your face cream that isn't working after all- it's your pillowcase! Get the results you deserve with The Lush Silk Pillowcase.
Natural silk is also wonderful to reduce friction which can cause stretching of your soft face and delicate skin. Have you ever woken up with a hideous sleep crease? Obvious lines across your face which no amount of concealer can hide? Those marks can last hours! Too many nights like this can actually cause your skin to age more quickly.
No one wants that! Skin loses elasticity as you age and sleep creases can become ingrained in your face causing your skin to appear older than it is. The Lush Silk Pillowcase can help to reduce the friction and tugging by reducing extra pressure on your sensitive skin. This also makes the Lush Silk Pillowcase extremely beneficial to your hair!
Let's not forget about your hair! Did you wake up with "bed head" again? You go to sleep with nice clean hair and wake up less like Sleeping Beauty and more like Hagrid. The texture and friction of your typical pillowcases is what is causing that dreaded bed head in the morning!
The roughness of ordinary cases leaves you with tangles and severely damaged hair. Sleeping on gentler options such as hair friendly silk is the best way to avoid waking up with that "crow's nest" head of hair!
Do you know what your current pillowcase is made of? How about what's living inside your pillow? There are some things you cannot see with the naked eyes living in your old-school cotton pillows… allergens. I'm talking fungus and dust mites and many other unwanted guests. Gross!
This leads to troublesome sores on your face, irritation, hives, and discomfort. True silk is not absorbent, meaning allergens are not capable of living in your pillowcase! If that's not a reason to switch, I don't know what is.
This incredible pillow is made from A-grade mulberry silk and non-toxic dyes! This means there are special caring instructions, but don't worry, caring for your new Lush Silk Pillowcase is simple!
Use a pH neutral liquid detergent, wash delicately by hand or machine wash at 86°F, dry and iron on low heat, never bleach, and avoid tumble-drying!
The LuxSleep™ Pure Mulberry Silk Pillowcase is no ordinary pillowcase. This magic sleeping device took a great deal of dedication and research to perfect. Our goal is to give you the luxurious sleep you deserve.
Our experts created the perfect combination of softness, shine, and durability to give you optimum results! Invest in the best rest for you, your hair, AND your skin.
Ready to give this a try? Choose from trendy ivory, gold, or metallic grey.
Every order will include 2 pillowcase sets and a FREE silk sleep mask! Try it for yourself for 30 days. We know you are going to fall sound asleep in love.