Humans cannot survive without sleep. And we certainly can't thrive without good quality sleep. Most people have accepted poor-quality sleep as something they just simply have to live with, and given up trying to fix it.

We get it. It's not your fault that you were improperly informed about the dangers of poor sleep quality. A lack of sufficient rest can lead to a multitude of health problems like obesity, diabetes, cognitive trouble, and weakened immunity. People who have a bad night's sleep are shown to do worse at work, drive dangerously, and make poor food choices, too. The negatives add up!

Tremendous sleep leads to more productive waking hours and better lives -- yes, it's that important. An average lifetime equates to over 220,000 hours of sleep. Why not do everything possible to make it great?
The best natural shaped memory foam pillow
Ergonomic design supports head and neck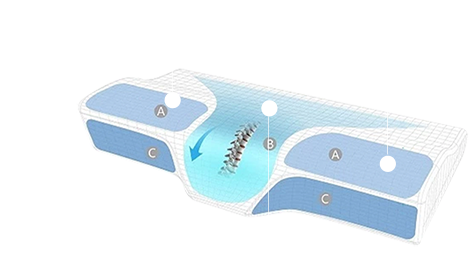 Cervical Neck Protection Area
Provides a natural orientation your neck
Convex Outer Walls
Optimal shoulder height for side sleepers
Middle Cavity
Offers the optimal alignment, of the head and supports you Spine column